Beulah Presbyterian Church
A Brief History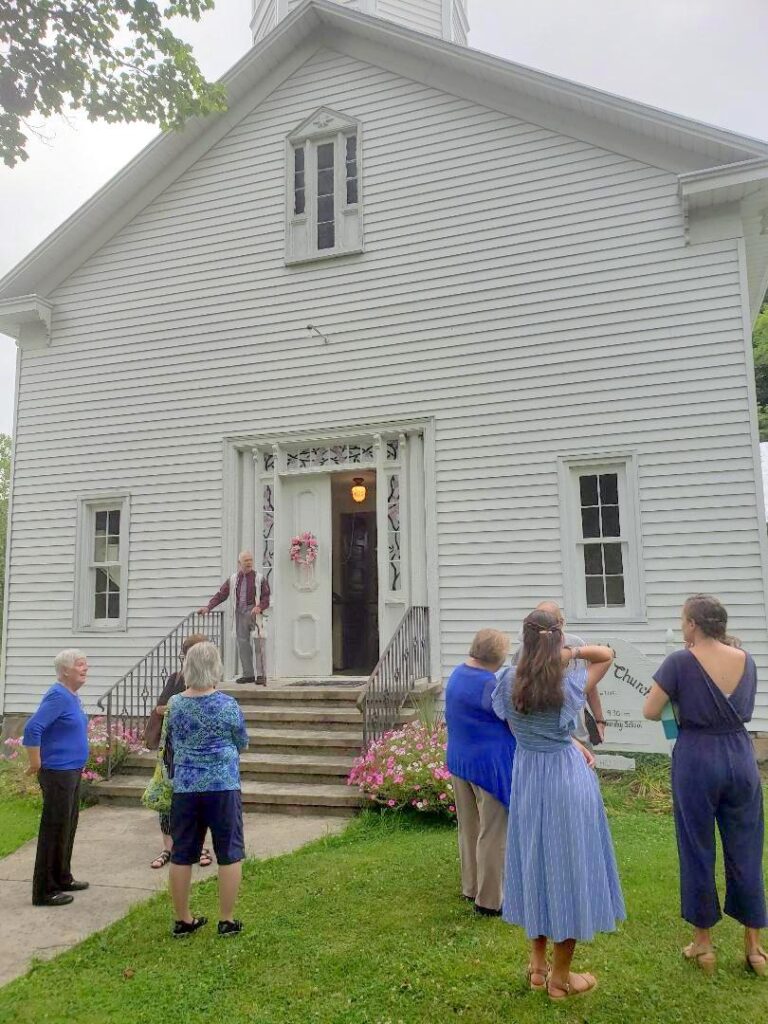 Before Beulah Presbyterian Church, there was Rehobeth Methodist, which was the first house of worship for both Methodists and Presbyterians in this area of Highland County, Virginia. The structure was located on what is now route 604.
In 1860, Dr. William price was the first Presbyterian minister to hold regular services and was the leading spirit in the organization of a Presbyterian church in this area. His dream was not realized until 1873 when the Lexington Presbytery in Staunton appointed a committee of Reverends C.H. See, G.B. Strickler, and W.T. Price to visit Rehotbeth Church, administer the Sacrament of the Lord's supper, and if the way seemed clear, to organize a Presbyterian Church.
This committee met at the appointed place on Friday, June 6, 1873. Morning and afternoon services were held and on Saturday, June 7, 1873, a church was duly organized under the name of "Rehobeth Church." J. Kenny Campbell was elected, ordained, and installed as the first ruling elder of the new church.
Before too long, however, instead of attending services at Rehobeth Church, the Presbyterians held services at what was known as "The Hall." Mrs. D.V. Ruckman and Mrs. W.M. Campbell were instrumental in stimulating interest in a new church building that would be big enough to accommodate all the people who lived in the community at that time.
D.V. Ruckman gave two acres for the church lot. Charles Wade was appointed chairman of the building committee alongside committee members D.V. Ruckman, John W. Bird, and Anson Wade. Construction of the church building began in November 1876 and was completed a little more than a year later. The building was 32 x 48 feet and would comfortably seat 380 people.
Mr. Sidney Ruckman, the architect under whose supervision Beulah Church was erected, designed and built a beautiful and unusual pulpit from walnut and cherry wood. It was ornamented with carvings shaped with a pen knife and fitted together like mosaics. George Ervin assisted Mr. Ruckman with the pulpit's creation, and the original pulpit still stands resolute in front of the current congregation.
D.V. Ruckman also made arrangements to purchase a Mason and Hamlin organ and contributed a large amount of the cost. The organ traveled from Staunton, Virginia, on a spring wagon to its new home and was played during services by many organists throughout the church's history including the current organist and pianist Mr. Richard Simmons.
On February 17, 1878, the congregation held a meeting to select the name of their new church. D.V. Ruckman suggested the church's new name, asking Rev. Laird to read a passage from Isaiah: 62:4 that said, "Thou shalt no more be termed desolate but thou shalt be called 'Hephzibah' and thy land 'Beulah' for Jehovah delighteth in thee." The congregation voted and dubbed the church "Beulah." It was dedicated on June 3, 1878. The entire building project totaled $1,800.
In mid-May of 1957, work began on an addition to house the church's Sunday School rooms and recreational facilities. The project was completed that fall with the exception of indoor plumbing and furnishings, which were completed later at different intervals. The current addition is heated electrically with a fully equipped kitchen.
For over a century, Beulah Church has remained the gathering place its founding members intended it to be. May Beulah Church always be a place where God is at home.
For a more in-depth history with lots of fun, historical facts, please read Beulah Church's full history.